"Lola"
Gch. Ch. Candar's Kissmee at the Copa

(Ch. Kissmee El-Bo's Aramis Crusader x Ch. Kissmee My Bella Sophia)
Bred by: Darlus Gerson, Elizabeth Ferris, and Candice Gerson
Thanks to Darlus Gerson, Lola was a wonderful addition to our household. She's a gorgeous 22 pound black brindle and white with a beautiful front. Lola rolled her way to her championship with her incredible movement. Lola fit well into our home and became one of the girls immediately. She has an even temperament and handles changes well.
Since both of her parents are not carriers for juvenille cataracts, neither is she.
Lola now lives with a young accomplished handler (Andra) who was only 7 years old when she started showing Lola.  Andra exclusively handled Lola to acquiring Lola's Grand Championship title!  Way to go!!!  We're so proud of Andra and Lola!!!  In 2013 they qualified to compete at both the AKC/Eukanuba National Championship and the Westminster Kennel Club Dog Show. Andra was the #5 Boston Terrier Junior Handler in the U.S.A. in 2014!  Woohoo!!!  Way to go Andra and Lola!
Lola will live forever with Andra and her family — don't think I could pry her out of their hands — and I wouldn't want to!
"Gabrielle"
Ch. Cibolo-Lonestar Express News
(Ch. Sunwoods Designed by Cozmo x Ch. Lonestar's Pris N' Prim of Cibolo)
.Bred by: Archie Gunter and Jamie Allen
Gabby was a special gift to us from Jamie Allen.  She is a beautiful little girl and received her ROM (Register of Merit) at the BTCA National Show in May 2014.  Prior to joining us, Gabby produced one litter which included a Top Twenty champion offspring:  Ch. Lonestar's Mr. Right.  Since joining our household, Gabby has had a litter which has produced two champion sons:  Gch. Ch. Gilja's Lonestar Great Balls O'Fire and Ch. Gilja's Easy On The Cash.  We love our little Gabby!  Gabby now lives in Charlotte, NC with a wonderful gentleman.  
"Puddin"
Ch. Oomocks Willows Jewel
Bred by:  Christine Smith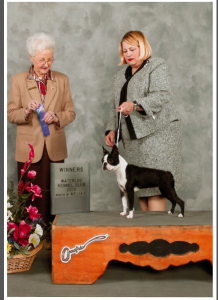 Puddin is such a spoiled baby and a wonderful show dog!  She needed one major to complete the requirements for her championship when we pulled her off the show circuit for awhile to produce her  and Jerry Lee's first litter of one, our lovely Barbara Ann.  Puddin is an awesome mother.  When Barbara Ann was 10 weeks old, Puddin entered the show ring again at the Hawkeye Boston Terrier Club Specialty Show.  She took a Reserve Winners Bitch and the next day took Winners Bitch for a 5 point major to finish her championship.  She's well on her way to her Grand Championship.  Thanks so much to Christine Smith for letting Puddin join our household!
"Dixie"
Oomocks Dixie Darling
Bred by:  Christine Smith
Dixie is a beautiful elegant happy girl.  She currently has 8 points including a 4 point major going Best of Opposite over 3 bitch specials.  She took maternity leave to produce a beautiful son sired by Clay.  And, she free-whelped this one big boy!  Dixie will be back in the show ring in 2015 to hopefully finish her championship.
"Priscilla"
Gilja's Tailored Love Me Tender
Ch. Bosart's Twist N Shout x BISS Ch. Gilja's Tailored Shoot N Star
Bred by:  Jane F. Cole and Gilbert Cole
Priscilla is absolutely the sweetest dog ever!  She is championship pointed with a BOS win going over champion bitch specials.  Her eyes are exquisite dark pools and she has tiny tight feet.  Beautiful front, topline, and rear.  She is just very well put together.  Priscilla has also proven to be an excellent producer.  Her daughters, Happy and Juliette, will enter the showring in 2015.  Right now she has a beautiful litter of 2 boys and one girl that will hopefully hit the ring in late 2015.
"Barbara Ann"
Ch. Gilja's Oomocks Barbara Ann
BISOH BISS Gch. Ch. Gilja's Lonestar Great Balls O'Fire x Ch. Oomocks Willows Jewel
Bred by:  Christine Smith and Jane F. Cole
Barbara Ann is just the most spoiled little girl but in spite of that she is incredibly sweet and loving.  She is one of my bed buddies.  But like her dad, she is a mama's baby, so it is difficult for me to show them both at the same time because neither one of them will show for anyone but me!