"Taylor"

International and American Ch. Gilja's Tailored Star

[Ch. Corky's Tailored To Taste x Sedgefields Hollie Berrie]
Taylor was and forever will be the great love of my life. He was everything that I could have ever wanted. Taylor was a wonderful showdog, companion, defender, and friend. In January of 2000, Taylor awakened me and insisted that I get out of bed. When I opened the bedroom door, the odor of gas was strong. He had alerted me to a gas leak in my home. Two weeks later, Taylor and I walked onto the floor of Madison Square Garden to compete in the Westminster Kennel Club Dog Show. It was an incredible experience and I was so proud of my Taylor. He was such a great ambassador for our Boston Terriers.
Taylor loved children. He could rough house with older ones, yet knew to be gentle calm and easy with little ones. The children he loved most were Jim and Tiffany Crone's sons Tom, Will and Jack. In his mind, they were his boys!
On March 17, 2001 as we entered the show building in Kansas City, I noticed that Taylor seemed to be having a barely perceptible problem with his left rear leg. It was a spinal injury that was then aggravated by the mylogram he was given to diagnose the problem. He never walked again. He was able to get around some with a customized wheel chair and of course I assisted him with everything that he needed. On June 20, 2003, Taylor went to sleep forever.
"Abbey"
International and AKC Champion Tuckaway's Sassy Suzy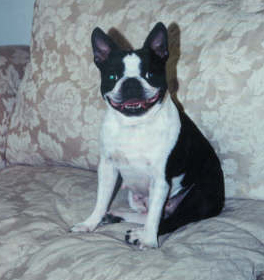 Abbey came to live with us when she was two years old. She always shared our bed. Abbey had the biggest grin. She loved and remembered all her children, but Java was her favorite. She cleaned him everyday until the day she died. Abbey was a beautiful mahogany brindle. Java and I still miss her. Abbey finished her AKC championship with a 5 point major on the same day that her son Jesse took a 5 point major. What a thrill!
"Java"
Ch. Gilja's Carolina Tailored, CGC
(Ch. Corky's Tailored to Taste x Int'l & Am. Ch. Tuckaway's Sassy Suzi)
Bred by: Jane F. Cole
Java was my heart. He did his best to fill the gap left when Taylor died. He was my constant companion and guardian. Java started out as my son's dog and was given the name "Java" by him. One of my son's favorite places is a coffee house called Jackson's Java in Charlotte, NC. Java finished his championship from the Bred By Exhibitor Class with two 3 point majors and one 5 point major.
Java trained in agility and obedience although we never competed in those venues. Java does hold the Canine Good Citizen certificate from AKC. He was a great moving dog with strong rear and was incredibly athletic. Eyes and patellas were normal. Java has sired one litter of puppies which produced two champions.
[Java's picture not available]
"Lance"
BISS Ch. Gilja's Tailored Tradition
(Ch. Renea's Tresamee of Chahary x Gilja's Tailored Starlet, ROM)
Bred by: Jane F. Cole
Lance was a stunning black and white male who completed his championship from the Bred By Exhibitor class. Lance was Best of Breed/Best in Specialty Show at the 2008 Heartland Boston Terrier Club show where he was expertly handled by Paul Catterson. (See a picture of his win at (www.heartlandbostonterrierclub.org) Along with his daughter, Reba, Lance was invited to compete in the first ever Boston Terrier of the Year Contest at the 2009 Boston Terrier Club of America National Specialty Show held in Connecticut.
He has sired champion offspring and has one Best in Specialty Show winning daughter (Reba) who took a group placement from the Bred By Exhibitor class over specials and has gone on to other group placements. He was invited to the Eukanuba/AKC national show in 2006 and 2007.
Lance's most special attributes were his beautiful dark ROUND eyes and his good movement and strong rear. Eyes and patellas were normal.
And, yes, Lance was named for Lance Armstrong—another great winner and incredible athletic.
"Andy"
Ch. Rodonnas Caus'n A Comotion
Bred by: Donna Cole
Andy was a special gift to me from Jerry Northcutt. Jerry bought Andy from Donna Cole of Rodonna Bostons. He was a small brindle of around 12-13 pounds. Andy had several eye injuries, but prior to them, he was cleared normal. Finishing with 3 majors was quite an accomplishment for Andy, considering he hated showing. Loved being at the show, but the second he stepped into the ring, his head went down and he let everyone know that he didn't want to be there. In spite of that he often went from the classes over specials. Needless to say, once he finished, he was retired except for a couple of appearances at the Boston Terrier Club of America National Show.
"Elizabeth"
Gilja's Kissed By An Angel
(Ch. Renea's Beetle Bailey x Gann's Abilene)
Bred By: Jane F. Cole
Elizabeth (or Lil' Liz as only her Dad was allowed to call her) had a face that just begged to be kissed. She was such a beautiful little 12 pound black brindle and white girl. Her eyes and patellas were normal. Elizabeth was 3 points away from her championship. She has one major from a Best of Breed over special win. She was being shown in the Bred By Exhibitor class. When not playing chase with her brother Dillon, she was cuddled in someone's lap.
Our hearts were broken when we lost our little girl.  But she lives on in her beautiful children.  Elizabeth's little Maggie is so much like her mother that I often catch myself calling her by her mother's name.
"Bedford"
Gilja's American Tailored
(Ch. Rodonnas Caus'n A Comotion x Int'l. & Am. Ch. Tuckaway's Sassy Suzi)
Bred by: Jane F. Cole
Bedford was Abbey's last puppy and had her big beautiful grin. He was a big 24 pound beautiful brindle and was just the sweetest boy.  Bedford was clear on the DNA test for Juvenile Cataracts.  Patellas normal.  Bedford sired only one litter — 3 males and 1 female – free whelped!!!
We miss our beautiful happy boy.
"Caroline"
Ch. Gilja's Sweet Caroline
[Ch. Rodonnas Caus'n A Comotion x Int'l. Ch. Chahary Stars Song Baiser]
Bred by: Ira Smoluchowski & Jane F. Cole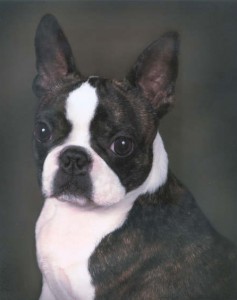 Caroline was affectionately dubbed "Chunky Monkey" by my husband. She was a beautiful little short bodied brindle female with a gorgeous front, head and eyes. However, she did love to eat and had to stay on a diet during her show career. Caroline was finished from the Bred By Exhibitor Class and thus had her invitation to AKC's National Championship in December 2006. Although she's always loved babies, Caroline has never been a mother.
"Beetle"
Ch. Renea's Beetle Bailey
(Ch. Kennedy's Rook O' Renea x Ch. Renea's Ladybug)
Bred by: Byron Elder
What can I say about Beetle? He is just the sweetest little dog and my snuggle buddy. Thanks to Gloria Payne for letting Beetle join our family. My granddaughter, Becky (age 14 at the time) went to her first show with Beetle, walked in the ring with him and took a 4 point major. Becky and Beetle were like an unstoppable force of nature. They went on to take a 5 point major against professional handlers, then another 4 point major. Imagine how proud I was the day that Becky finished Beetle's championship requirements.
Beetle is 11-12 pounds and is just a very nicely put together little Boston. Beetle has been quite the little stud and has produced many beautiful litters and has produced five litters that were freewhelped!!!! So far, all his pups have been beautifully marked. He moves well and his eyes and patellas are normal.  He is clear on the DNA  test for Juvenile Cataracts.
Beetle's offspring include:
Ch. Gilja's Stars N Stripes
Ch. Bosart's Twist N Shout
BISOH BISS Gch. Ch. Gilja's Lonestar Great Balls O'Fire
Ch. Gilja's Easy On The Cash
And there are more Beetle puppies to be shown in 2014!!!
*We've lost out Beetle Bailey or Betta Beat as we lovingly called him.  So sad.  He was my shadow and bed buddy.  Beetle left his mark and will be greatly missed.
"Jesse"
International, National and AKC Champion Gilja's Tailored For Barron
(Ch. Corky's Tailored To Taste x Int'l & Am. Ch. Tuckaway's Sassy Suzi)
Bred by: Jane F. Cole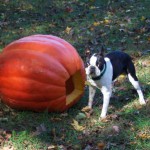 There is only one Jesse!!! What a character! Jesse is co-owned by Ann Palko of Holly Springs, NC. He's the only Boston that I've ever had to jump onto the examination table. The day that he completed his championship, he was absolutely determined to win—he jumped onto the examination table, immediately went into a perfect show stance and turned and eyeballed the judge. The judge and the spectators all laughed—and Jesse won!
Jesse has outlived all his companions and both his brother and sister. First, he lost Max, a wonderful loveable Boston rescued dog. And next, he lost his "big brother" and protector, Barron. Barron was Ann's rottweiller and was the most gentle of dogs. At age 12, Barron lost a battle with lung cancer. Barron was much loved by Jesse, Ann, Mike, and all who knew him. And recently, his pal Tommy passed away.  Tommy was a little blind Boston.  Jesse watched over Tommy and would try to help him with what he needed.  When he saw Tommy searching around the living room, Jesse raced upstairs to the bedroom and found Tommy's toy and brought it down to him.  We love and admire Jesse and hope he'll be around for many more years.  He was born December 27, 1999.
* An era has ended.  We've lost Jesse.
"Oliver"
International & American Ch. Gilja's O'Brien Oliver to Show
Oliver was a beautiful black brindle and was shown to his championship by his co-owner, Peggy O'Brien. He was Peggy's first showdog and she did a great job with him. Oliver lived with Peggy close to Kansas City.